Tekape.id – Pemerintah RI membuka peluang untuk bekerja sama dengan China dalam mengelola kekayaan laut di Zona Ekonomi Ekslusif (ZEE) perairan Natuna, Kepulauan Riau.
Kepala Staf Kepresidenan Moeldoko menyebut, Indonesia membuka peluang kerja sama dengan seluruh negara, termasuk China.
"Bukan hanya dengan China, dengan siapapun," kata Moeldoko di Kompleks Istana Kepresidenan, Jakarta, Jumat (10/2/2020).
Moeldoko mencontohkan Indonesia selama ini sudah bekerja sama dengan perusahaan minyak asal Amerika Serikat, Exxon Mobile untuk mengelola sumber minyak di Natuna.
Menurut dia, kerja sama serupa juga bisa diterapkan kepada China atau negara lain.
"Jadi semua negara bisa mengelola, hak berdaulat bisa dikerjasamakan," kata Moeldoko.
Menurut Moeldoko, aturan terkait kerja sama di ZEE Natuna ini sudah diatur dalam United Nations Convention on The Law of The Sea (UNCLOS) 1982.
"Ada salah satu ayatnya, pasalnya, pengatakan bisa saja di ZEE itu bisa kerja sama. Kerja sama bisa, yang penting ada ikatan kerja sama," kata mantan Panglima TNI ini.
Kendati demikian, menurut Moeldoko, sampai saat ini belum ada pembicaraan antara pemerintah Indonesia dan China soal kerja sama pengelolaan sumber daya alam di ZEE Natuna ini.
Menteri Pertahanan Prabowo Subianto sebelumnya menyebut pemerintah Indonesia bisa saja melakukan negosiasi dengan pemerintah China jika nelayan dari negeri tirai bambu itu hendak mengambil sumber daya alam di Zona Ekonomi Ekslusif (ZEE) Indonesia di perairan Natuna.
"Kalau eksploitasi ikan atau mineral (di ZEE) itu harus kerjasama, harus izin kita. Nah ini kan bisa diselesaikan, kita bisa negosiasi dan sebagainya. Ya kita cool saja selalu saya katakan," kata Prabowo usai bertemu Presiden Jokowi di Istana Kepresidenan, Jakarta, Kamis (9/1/2020).
Prabowo mengatakan, ZEE berbeda dari wilayah teritorial RI. Wilayah teritorial berada 12 mil dari lepas pantai. Perairan yang berada lebih luar dari batas teritorial itu disebut sebagai ZEE Indonesia.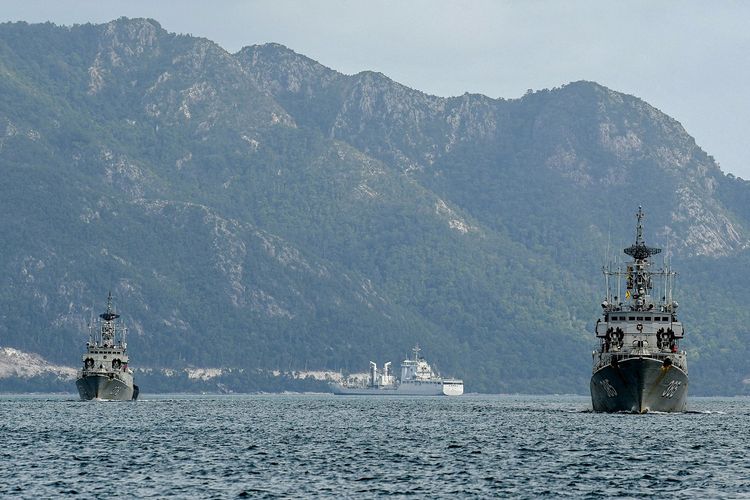 Menurut Prabowo, kapal dari negara pun bebas melintas di wilayah ZEE Indonesia. Namun, negara lain harus bekerjasama dengan Indonesia untuk melakukan eksploitasi di ZEE.
Situasi di perairan Natuna dalam beberapa hari terakhir sempat memanas setelah kapal pencari ikan dan coast guard milik China berlayar di kawasan tersebut.
Padahal, perairan Natuna berdasarkan Konvensi United Nations Convention on The Law of The Sea (UNCLOS) 1982 masuk dalam Zona Ekonomi Eksklusif (ZEE) Indonesia.
Pemerintah Indonesia mencoba jalur diplomasi untuk menyelesaikan masalah ini dengan melayangkan nota protes terhadap China melalui Duta Besar yang ada di Jakarta.
Sementara itu, TNI dan Badan Keamanan Laut (Bakamla) RI terus disiagakan di Perairan Natuna yang masuk dalam Provinsi Riau untuk memantau kondisi di sana
Terakhir, Presiden Joko Widodo turut ambil sikap. Dia bersama sejumlah petinggi negara mendatangi perairan Natuna menaiki KRI Usman Harun. Kepala Negara menegaskan kapal China tidak melalui laut teritorial, tetapi ZEE Indonesia.
Sumber: kompas.com